"…one of the best books I've ever read, I've been a fan of Peter Navarro for a very long time. He's been my hero, he's also been right there on voter integrity, on the scam and the fraud that went on."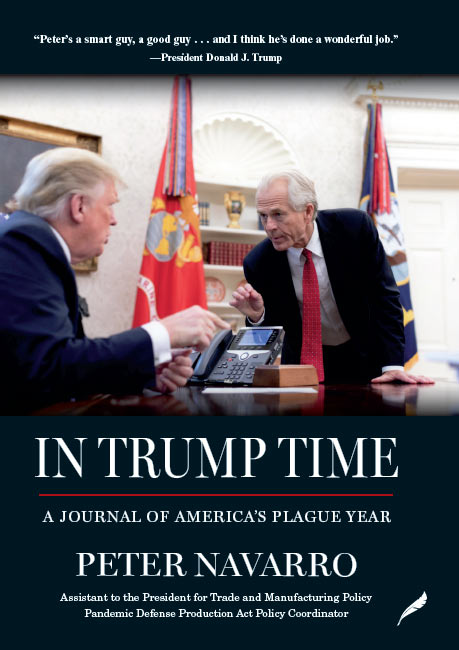 A must-read riveting account of America's plague year from one of the top Trump advisors who first sounded the China pandemic alarm, exposed Dr. Fauci's destructive actions and laid bare the facts about the 2020 presidential election.
In Trump Time, A Journal of America's Plague Year tells the story of a president who worked night and day for the American People, who built the strongest economy in modern history and who would deliver a life-saving suite of vaccines to the American people literally at warp speed.
Peter Navarro is one of only three White House officials by President's side from the 2016 campaign to the end of the president's first term in office. Always moving In Trump Time as was his signature, Dr Navarro played a pivotal role in the rapid development of both vaccines and therapeutics like Remdesir.
As Defense Production Act Policy Coordinator, Navarro was at the center of ramping up domestic production of critically needed Personal Protective Equipment and while helping President Trump ensure that every American who needed a ventilator had a ventilator.
A compelling page turner of a book that tells the story of America 2020 from inside the White House.
 "[Peter is] one of the most important people that served in the Trump administration and was loyal to the President to the very end, which is somewhat of a rarity… he has new book coming out! In Trump Time…Everyone check it out."